I really have been through hell & back with my hair, I thought I could go from dark brown to white blonde myself.....I was wrong lol..... I did somehow manage it but not without consequences. Alot snapped off and it felt very dry so I succumb to go to the dreaded hairdressers and thank god I did, she saved my hair by putting other blonde shades in it but without the following products I dont think my hair would be in the condition it is today .I now love going to get my hair done and make way more effort with my hair....did anyone else dread the hairdressers ?
I now only use 2 products on my hair because for me if I use to much it makes my hair very greasey & hard to style.
My number one:
Revlon Unique One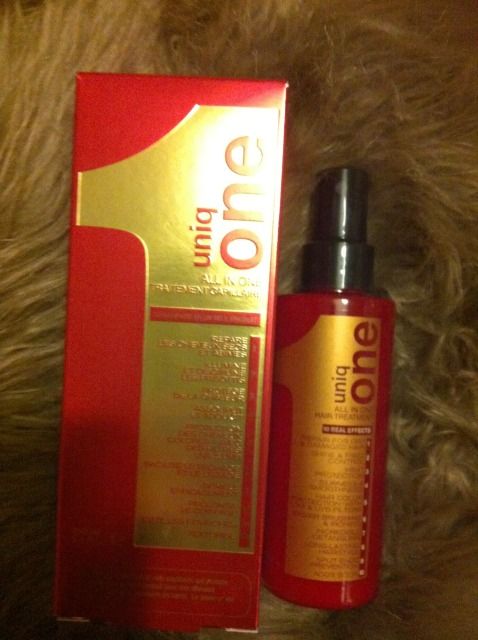 I call this product 'My Hair Crack'
It literally is my go to hair product!
How Much: £13.99
where from: Internet or Hairdressers who stock Revlon
Why I love it: This is a 10 in 1 spray that does everything imaginable
Repair for dry & damaged Hair

Shine & Frizz control

Heat Protection

Silkiness & smoothness

Hair colour protection with UVA/UVB filters

Easier brushing/ironing

Incredible Detangling

Long last hairstyle

Split end prevention

Adds Body
I very much feel like this product has helped repair my hair, along with my hairdressers help with a good trim and regular visits.
I spray my hair after the bath onto wet hair & use a comb to brush through and being a blonde my hair is normally very dry because of the bleach but with this miracle spray its as if my hair is made of silk, its so easy and one of my favourite things about the spray is the smell, it literally smells like youve had your hair washed at a salon....heaven !
Its quite a creamy consistency so you dont want to spray to much as too much can make it go a little bit greasey. I use it every time I wash my hair , and its the first product I use before drying my hair.
The only 'Con' I would say is, I dont think it adds body or is a split end preventor ...( is that a word ? ) My hair still feels kinda flat but alot more manageable
BUT
all that being said It 100% makes my hair easy to brush and keeps it looking soft and healthy looking & in my books that's all I want!
Fudge Root Juice
Where from: Fudge stockists ( haha )( I got mine from work ) , Internet
Big hair for me is one thing im always trying to achieve. Ive used mousses's and creams in the past that promise big hair but they never last.
This Root Juice is another must-have for me! I use this after my Unique One spray.
This is a mouse formula which I spray right into the root on any areas I want lifted , like my middle parting and the back of my hair. I then work it into my hair just using my fingers, again like the Unique One spray you dont need alot or it can make your hair all hard and gross !
Unlike some volumising products this actually does work and has made my hair bouncy and glossy :)
This is a number 6 Hold Factor which ranges upto 15 which is a bit extreme, I find the volume stays alday and I do get alot of compliments ( working in a hairdressing enviroment ) about how thick and volumised it looks which is always nice to hear :)
The best way to use this product is to use a round brush to blowdry it, I do section my hair and work my way up!
If its a night out I will also hair spray it just to keep it in place!
Con: I can imagine if you dont wash your hair very often ( ie once a week ) this product may not be for you as it can have the tendency if you use to much to make your hair feel a tad dry! But because I wash mine every other day or everyday depending on what im doing it doesn't affect me!
Rate: 9/10
If I was going to recommend one out of the two ! It would be the Revlon Unique spray, I know not everyone wants volumised hair ( but if you do then the root juice is great ) But the Unique spray ....I cant even put it into words how amazing it has made my hair feel and more managable, & the fact I only have to use one spray to do loads of other products jobs helps!
what are your hair must haves?
Lots of love
Kate xo